High Mountain Horseback Riding - 7 Days in the Pyrenees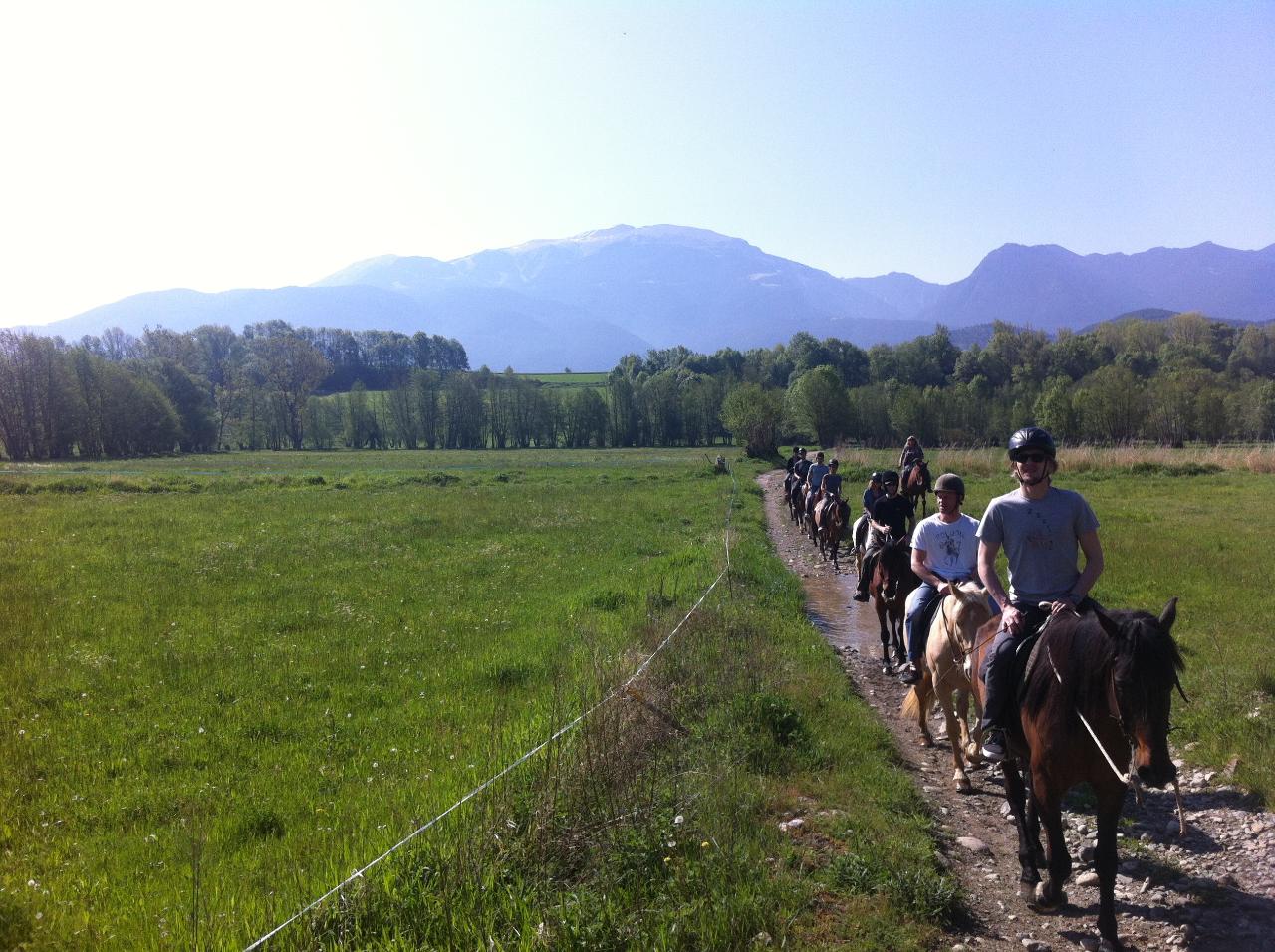 Duration: 7 Days (approx.)
Location: Barcelona , Barcelona
Product code: PL1YCG
HIGHLIGHTS
This is a special route of the Pyrenees in which we will
reach peaks up to 2800m. It is a trail that crosses great ranges, going on
their peaks so we can enjoy the Pyrenean scenery from alpine areas, deep
valleys and rocky reliefs where it feels like you have landed on the moon. A
nature spectacle!
This route is appropriate only for experienced riders
and for fit people used to walk on the mountains, because in some parts of this
trail it will be required. Therefore, we only recommend you this trail if you
are in a good physical condition!
___________________________________________________________
Season: any

Suitable for: Families, couples, groups of friends
___________________________________________________________
WHAT´S INCLUDED
6 nights HB accommodation + picnic lunches
Horses and safety gear
Local riding guide
DESCRIPTION
Day 1. Arrival
You will arrive at L'Abella in the Pyrenees, a typical
and a small Catalan village in the middle of the mountains with stone houses.
Before dinner, we will go over the week's program. You will be told about the
special characteristics of our Andalusian trail horses. You will be given an
introduction to the week´s programme with an opportunity for a one-to-one
conversation designed to find every rider their perfect horse. Then, you can
enjoy a fantastic dinner!
Day 2. The journey begins
4-6 riding hours
After an early start from l'Abella, we begin to climb
up to Costa Bona (2500m). Soon we leave the track as up here there is only
rolling mountain meadows and wildflowers where we enjoy some very nice canters
and gallops. Once we arrive at the peak of Costa Bona, we enter into the French
territory passing the source of the Ter River. The views are immense and breath-taking, the light is
that of the Pyrenees. Up here, it is very common to see eagles, vultures, and
herds of wild goats and deer. Then we continue our trail crossing the
landscapes of Can Magre, and Portella de Mantet to reach the slope of Vallter
2000. We leave our horses here and our van is going to bring us to our hotel in
Tregurà, in a well-known area because of its excellent and chary gastronomy.
Day 3. Up to the highest peaks
4-6 riding hours
Today we will meet for breakfast and for
preparing our trail very early.
During this day,
we are going to ride through a spectacular high mountain landscape, with peaks
of 2600m and 2800m. From Vallter
2000, we will ride to Coll de la Marrana, crossing the top of the Freser River
where we will have a picnic. After lunch, we climb up to the Pic de l'Infern
from where we can admire the beautiful lakes of Carança and the valley of Coma
de Vaca. Our next step is Nou Creus peak, located in an altitude 2800m, our
highest peak in this trail. During the descent, we will enjoy long canters
until reaching Vall de Núria, and until Queralbs. Accommodation in the hotel
and free time until dinner.
Day 4. Riding across French border
6-7 riding hours
We will begin this day by riding across the French
territory, crossing through some nice ski stations with an intense but also
excellent ascension until the Coll de Finestrellas Mountain.
From Vall de Núria we climb up to Finestrelles,
crossing several times from Spain to France, with really nice landscapes. Now
we start a calm descent on the hillside of Puigmal, where we prepare a
delicious picnic. After lunch, we ride into the French side through Vilallobent,
to enter again in Spain and arrive at Pugicerdà. Hotel in Puigcerdà. We have
the possibility to enjoy our free time visiting the spa zone or also the
commercial center of Puigcerdà.
Day 5. The Great Valley of the Pyrenees
3-5 riding hours
Today, we will have a relaxing day with fast gallops
and canters, to rest from the long journey of the previous day. We are going to
ride across Cerdanya, one of Europe's widest valleys, with a minimum altitude
(about 1000 meters), with its east to west orientation, and a high dose of
insolation of about 3000 hours of sun exposure a year.
From Puigcerdá, the main village of the valley, we
will move towards Queixans where we will ascent to subalpine mountains, to
reach the alpine hut of Pla les Forques, where we will stop for the picnic. The
diversity and beautiful landscape is clearly evident: from the pure Mediterranean
traits to alpine meadows of high altitude, you can even find sub-Mediterranean
woods, beech forests, boreal woodlands of red pine trees and sub-alpine conifer
woods with black pine trees and fir trees. The Park's vegetation is considered
of special interest, since its low temperatures, the high degree of humidity in
the area and its altitude have all contributed to the existence of species
which are not characteristic of the Mediterranean region but of northern Europe
and the high alpine or European mountains instead.
After lunch, we are going to descent until La Molina.
Accommodation in La Molina (a ski station during the winter).
Day 6. Natural Park Cadí-Moixeró
5-6 riding hours
Two great mountain ridges, El Cadí and El Moixeró,
meet at Coll de Tancalaporta and form an impressive mountain barrier where the
main Pyrenean ridge meets the pre-Pyrenees. This is where El Cadí-Moixeró
Natural Park protects not just a wonderful biodiversity but also numerous sites
of outstanding natural beauty. The day begins and we saddle up and ride across
the plains through fields of wheat and sunflowers. Then an ascent up to the
mountain meadows where cattle & horses are sent to graze in the summertime
. Here we are aware of the strength, sure footedness and stamina of the
horses as they power their way up the peak. We ascent above an altitude of 1500
m until we arrive at las Barracas del
Rus, a building which grazes the cattle during summer, this place has got
immense green landscapes with sources of water, where we will have our picnic.
After lunch, we will ride long gallops across the
meadows of Pla d'Anella, in where we have the possibility to meet more than
2000 sheep in summer. Arrival at the
hotel in La Molina.
Day 7. Departure

This tour is Avillable only on this dates:
15-21/4
29/4-5/5
13-19/5
27/5 – 2/6
10-16/6
24-30/6
29/7 – 4/8
16-22/9
30/9 – 6/10
14-20/10






Price Does not include Summer Supplement (July-10€ Per Person Per Day. August & Holidays- 19€ Per Person Per Day)